How To Rank in Google's Local Pack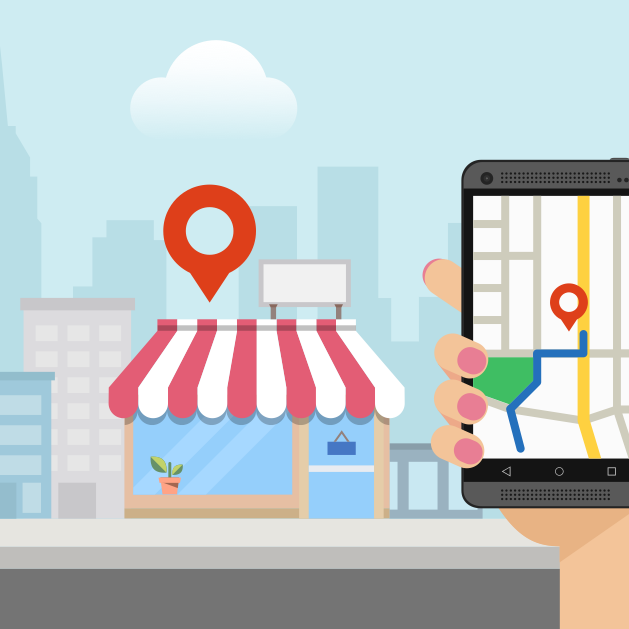 What is Google's local pack?
So, what is Google's Local Pack, more recently referred to as the local 3-pack as Google has limited the number of listings to 3, and also referred to as the Map Pack or even the Snack Pack? The Local Pack is a section of Google's search results that show the local businesses related to your query. Whenever your query has local intent, Google will show three local businesses that might answer your query.

Why should you be in the local pack?
Why is it so important for your business to be in the local pack I hear you ask? Well, it appears in the #1 spot on the search results page 93% of the time when a local search is performed – and 46% of all searches on Google are of this nature. If your business is optimised for a Google local search, you'll have a much better chance of ranking at the top of the search results page, almost every single time. This is a MAJOR advantage for small businesses!
According to ThinkWithGoogle, 50% of consumers who conduct a local search on their smartphone visit a store within a day and 18% of those searches lead to a purchase within a day. What's more, search queries with "near me" in the query have increased 34x since 2011 with the vast majority coming from mobile.
There are some vitally important key benefits of being in the local pack:
It will lead to more website traffic
It will help with better SEO outcomes
It is not uncommon for a small business that is listed on a few local listings without much traffic to beat big chains that have a location in that area
Your business will get an increased amount of foot traffic, bringing new customers and increased revenue


Where do I find Google's local pack?
Local packs in Google are comprised of a map and a number of listings. The listings that we see depend largely on their location. When you click on one of them, it takes you to Google Maps with an extended view of this business. I've included an example here using the search "pizza restaurants Burleigh Heads", because, who doesn't like pizza!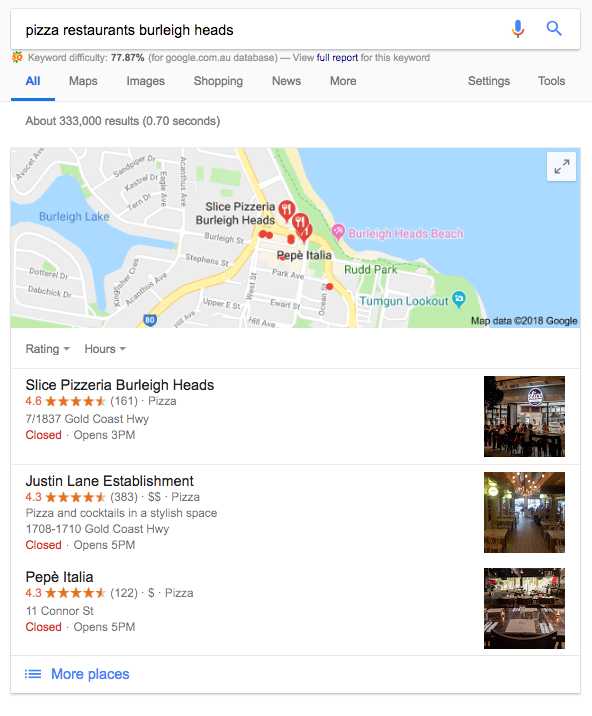 How do you get your business in the local pack?
It's very simple really, just follow these steps. If in doubt, you can contact one of our digital strategists to set this up for you:

1. Claim your Google My Business listing.
Google takes most of the info for local business listings (including an address, phone number, images, map, etc.) from that page. Once you have set up your profile, make sure to:
Add a long, unique description with a link to your official website
Choose the correct category for your business
Upload a high-resolution profile image and cover photo
Double check your address, local phone number, and opening hours
Update the information when necessary.
2. Gain positive reviews.
The reviews from your Google My Business page can play a big part in your listing's prominence in local search, as the overall review rating is included into a local pack snippet. Plus, Google has an option for searchers to select only those businesses that are above a certain rating. Try to encourage your happy customers to make reviews for your business on Google, for example, you can offer an incentive for reviews.
Food for thought
If you're not yet convinced of the importance of getting into the local pack, check out these stats from a recent Moz case study, who analyzed where users were clicking when they arrived at their local search results. The research found that:
44% of people clicked in the Local Pack
8% chose to load "more local results"
29% clicked on the organic listings
19% clicked on the paid results
Related Articles
Comments